If you don't have your own kennel, or you are unsure which crate size will best fit your travelling pet then our kennels inventory is a wise choice. ScandiPet has  IATA approved pet crates in different standard sizes.
Guidance for Dimensions of Container
To assist in determining the approximate size of the traveling container, the following formula may be useful. When calculating the minimum internal height of the container, the height of bedding should be added to the height of the animal.
Animal measurements:
A = length of animal from tip of nose to base/root of tail.
B = height from ground to elbow joint.
C = width across shoulders or widest point (whichever is the greater).
D = height of animal in natural standing position from top of the head or the ear tip to the floor (whichever is higher).
Note:
Measurements A, B, C and D for determining the container dimensions must relate to the largest animal.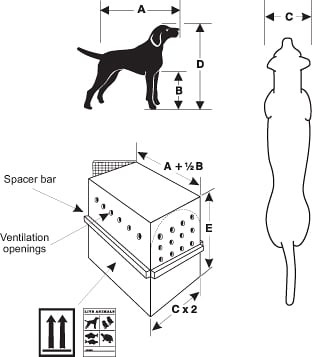 The calculated dimensions are internal container dimensions.
Minimum internal container dimensions for a single animal:
Container length = A + ½ B
Container width = C x 2
Container height E = D + bedding
Snub-nosed breeds require 10% larger container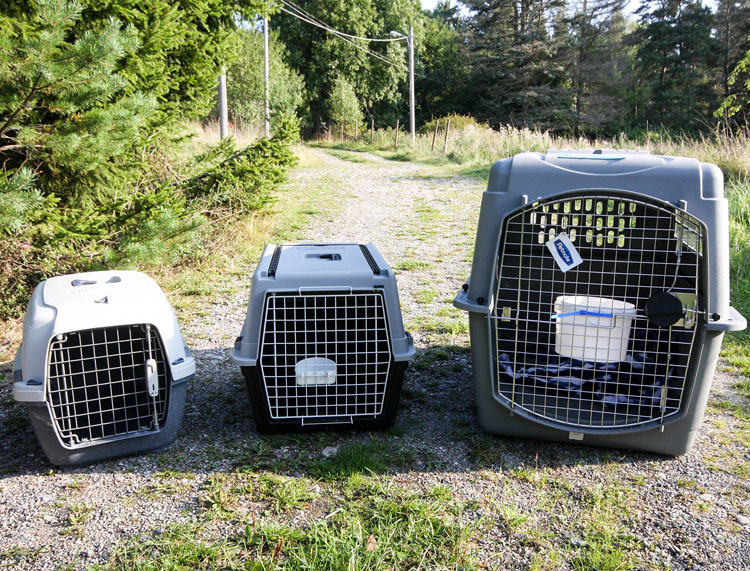 Providing your pet´s measurements
While we normally know which crate will best fit a given breed at a given age, we ask the client to provide us the pet's measurements at the time of booking to prevent from having problems with airlines check at airport. Airlines advise that the travelling pet should have enough space to stand up, lay down and move freely to drink inside his crate and as per above measurements.
We rely on your cooperation in providing us continuous updates of the correct measurements of your growing pup until a week before departure.
In some cases, wrong measurements and wrong crate size can cause unnecessary extra costs, as the airfreight price depends upon the volume of the kennel and worst case scenario that airlines will not accept the pet.
Small Varikennel 53x41x38 cm
Nomad 60x40x40 cm
Med Vari 71x52x54/Nomad 67x47x51cm
Intermediate Varikennel 81x57x61 cm
Large Varikennel 91x63x69 cm
XL Varikennel 102x69x76 cm
Giant Varikennel 122x81x89 cm
1100 SEK
1300 SEK
1900 SEK
2100 SEK
2500 SEK
2900 SEK
6200 SEK
Scandipet Wooden Kennels
ScandiPet wooden kennels are used for large breed shipments like German shepherds and Leonbergers. These crates are made with solid wood (12mm thickness) and designed in a manner to have good ventilation and secured containers loading and stuffing. We provide crates with deep stainless steel water bowl.
Important!
In case your pet needs a NON-standard crate size we can order it for you.